Mt. Adams 1-day Summit Trip Report
My fastest ascent of Mt. Adams to-date.

FeedbackBy Preston Hunt, 21 July 2002
Group: Preston Hunt, David Hoenig (met up with Brian Montalto, and his friends Mark and Jen)
Links: David's pictures (TBD).
This is going to be a quick trip report, just like the summit! Montalto sent out an e-mail earlier in the week to see if anybody wanted to join him for a summit of Adams. Hoenig and I talked it over and decided to go for it, although we wanted to go for it in one day as opposed to Brian's camping at the Lunch Counter.
We left Portland Saturday night around 9:30 and headed for the trailhead. The approach road has been recently redone and is way better than it used to be - cars can make it now without worrying about getting swallowed up whole by potholes! At the TH lots of cars and tents were strewn about, but we found a nice level spot in a gravel parking lot, laid out in the back of Hoenig's Jeep, and tried to go to sleep a little before midnight. It was a pretty hot night, so I had trouble sleeping; I think I also had a little pre-climb anticipation.
Our alarms went off at 4:00 a.m. and we were optimistically hoping for a 4:30 departure, but things always take longer than you like and we didn't get going until 4:50. I've learned my lesson: From now on, I am going to plan one full hour for getting ready in the morning! Sunrise was almost upon us at this point and we only had to use our headlamps for about 15 minutes (my new LED headlamp worked great!).
I found the first few miles challenging while David seemed to have no problem blazing away in front of me. The initial few miles are pretty gradual, and thus we had to really hoof it to get a respectable elevation gain early on. I was either still waking up or just warming up, but either way I was glad when we stopped for our single rest break before hitting the snow.
Once on the snow, my double plastics were much more content! It got quite a bit steeper too, and I had no problem climbing the existing steps in the hard morning snow. David and I both enjoyed a section we call "the escalator", which was outrageously steep with perfectly spaced steps (we were climbing in excess of 55 ft/min here).
Shortly after the escalator, the sun hit us in full force and we stopped for sunglasses (we had already coated sunscreen on in the car, a time saving must for the one-day summit), clothing adjustments, and food. All of our stops from this point on where very short, less than 5 minutes, and consisted mainly of swallowing down a Gu packet (me) or a Snickers bar (Hoenig), and sometimes sitting on the snow with our legs pointing toward the summit (to drain away lactic acid, a trick that long-distance bike riders use to keep their legs pumping away).
Somewhere around 7:30, David uttered the fateful words, something to the effect of, "if we get up in under 5 hours, we will blow away Zack and Karsten's 5:15 record". We had just made radio contact with Montalto and company, who were about 700 feet higher than us, and I was already motivated to catch them, so David's proclamation simply fuelled the fire! A steady stream of slower hikers in front of me also provided useful motivation, and I had a perverse sense of glee as I picked them off like targets one by one.
Just before the false summit, our roles reversed and David started to poop out. He selflessly insisted that I go on without him, and after a double Gu, I pressed on for the final thousand feet to glory. Just after leaving David, I ran into Monty Smith leading a group of 12 Mazamas up the mountain; they all seemed quite impressed with the fact that we had only just left the trailhead around 5 a.m. (I should add at this point that the only time that David and I were passed on this trip was when a single runner blasted past us around the lunch counter. All he had were shorts, poles, light trekking boots, and a very small backpack... he was probably light on the safety gear, but with the mountain so crowded it probably doesn't matter all that much.)
For the last few hundred feet, I was fuelled by the simple motivation to beat 4:30 total ascent time, a feat I managed to pull off without my leg muscles spasming up on me as they had on previous trips this season (I credit Cytomax in my Camelbak for keeping my electrolyte levels balanced). I saw Montalto and his friends almost right away and he rewarded me with some cheese and a beef stick. I basked in the warm sun and in the realization of my accomplishment for about 15 minutes, after which Hoenig appeared too.
After the requisite group summit shot, we started the descent, greatly aided by the presence of the monstrous glissade chute that is usually on Adams around this time. I had brought along a piece of 3mm plastic to sit on in an attempt to prevent my Gore-Tex pants from getting trashed. It worked pretty well, although it had a tendency to get left behind every now and then and had to be rescued by Hoenig or Jen several times on the way down.
At the lunch counter, we stopped for a half hour or so. David and I sunned ourselves on the rocks while the others broke down their campsites. Upon starting out, David and I decided to break away from the others and hoof it back to the trailhead so that David could make it back to Portland by 3:00. The hike out was greatly aided by the softening snow which encouraged generous plunge stepping. We also were able to do quite a bit of standing glissading (at one point we did a standing glissade for well over 2 minutes!), something I rarely get to do.
We were back at the cars by 1:30 p.m. and on our way back. Due to the Gorge Games, however, traffic was all snarled up and we spent about 20 minutes crossing the Hood River bridge. With his hopes of getting back to Portland before 3:00 dashed, Hoenig suggested that we check out the Gorge Games for a few minutes. We walked around the complex, checked out the kayak companies demonstrating their kayaks on the wave generating machine, watched Chris Sherma do some climbing on the rock wall, and talked with a few familiar faces from Portland Rock Gym. We probably would have stayed longer, but the heat was intense out there and the Gorge Games organizers had not seen fit to provide any sort of shade.
We made it back to Portland around 5:00. Overall, an awesome event! My goal for next summer is to reach the Adams summit in under 4 hours.
Data
Ascent: 6690 feet in 4:20 (avg 25.73 ft/mn; 1543 ft/hr)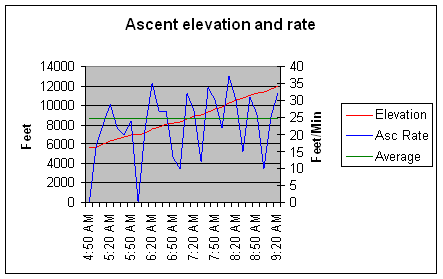 Descent: 6690 feet in 3:21 (avg 34.31 ft/mn; 2058 ft/hr)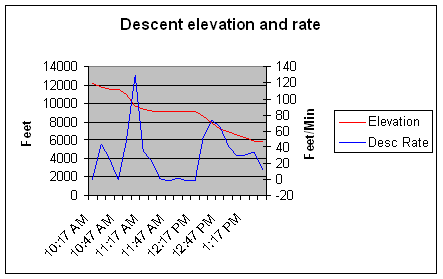 Gear
Qty.

Category

Subcat

Item

Wt. (oz.)

1

Essentials

Ditty Bag

Balaclava; polypro gloves; solar blanket; LED keychain light; knife; paper and pen; compass; whistle; toilet paper; waterproof matches; firestarter (trick candles)

13.0

1

Essentials

Ditty Bag

Balaclava (lightweight polypro)

1.6

1

Essentials

Ditty Bag

Gloves (polypro liner gloves)

1.1

1

Essentials

Ditty Bag

Emergency solar blanket & storage bag

2.1

1

Essentials

Ditty Bag

LED keychain light

0.3

1

Essentials

Ditty Bag

Swiss Army "Climber" knife

3.0

1

Essentials

Ditty Bag

Paper, pen, & storage bag

2.2

1

Essentials

Ditty Bag

Suunto Compass

1.3

1

Essentials

Ditty Bag

Zip ties/Cable ties

0.0

1

Essentials

Ditty Bag

Whistle

0.2

1

Essentials

Ditty Bag

Toilet paper

0.3

1

Essentials

Ditty Bag

Waterproof matches, trick candles (+ bottle)

0.9

1

Essentials

First aid

First-aid kit

1

Essentials

First aid

Iodine tablets (bottle)

1

Essentials

First aid

No-Doze tablets (bottle)

1

Essentials

Sunglasses

1

Essentials

Map of area

0.0

1

Essentials

Extra food (Powerbar)

2.7

1

Essentials

Extra socks

1

Essentials

Large heavy-duty garbage bags

0.5

1

Essentials

Sunscreen (SPF 45) - Aloe Gator

1

Overnight

Toiletry bag

Bath kit: Toothbrush, toothpaste, contacts, ear plugs, eye drops

1

Overnight

Toiletry

Toothbrush

1

Overnight

Toiletry

Toothpaste

1

Overnight

Toiletry

Contacts

1

Overnight

Toiletry

Ear plugs

1

Overnight

Toiletry

Eye drops

1

Overnight

Sleeping

REI DownTime DryLoft 10deg

55.4

1

Overnight

Sleeping

Thermarest

22.6

1

Food

Containers

Nalgene 1L bottle (lexan)

5.2

1

Food

Containers

Camelbak Unbottle (100oz)

1

Food

Food

Breakfasts

1

Food

Food

Lunches

1

Food

Food

Cytomax or Gatorade (premixed packets)

1

Food

Food

Real fruit

1

Food

Food

Cheese

6

Food

Food

Powerbars

2.7

8

Food

Food

Gu

1.2

1

Food

Snacks

Gummy bears

1

Food

Snacks

Beef jerky

1

Clothing

Wicking

Patagonia Mid Capilene Zip (blue)

7.6

1

Clothing

Wicking

Patagonia long johns (black)

1

Clothing

Insulating

Patagonia R2 fleece jacket

14.3

1

Clothing

Insulating

Patagonia Puffball vest

8.9

1

Clothing

Shell

REI nylon shorts

1

Clothing

Shell

Jacket - Arc'Teryx Theta AR

27.0

1

Clothing

Shell

REI Gore-Tex pants

14.3

1

Clothing

Footwear

Koflach plastic boots (step-in compatible)

94.2

2

Clothing

Footwear

Insulating socks (pair)

1

Clothing

Footwear

Wicking/liner socks (pair)

1

Clothing

Footwear

OR super gaiters (pair)

10.5

1

Clothing

Headwear

Nike white baseball cap

2.5

1

Clothing

Headwear

Wigwam pile cap

3.9

1

Clothing

Headwear

OR Gore-Tex hat (Seattle Sombrero)

3.3

1

Clothing

Headwear

Cebe glacier glasses (+ case)

2.7

1

Clothing

Gloves

REI fleece gloves (brown or black)

1.7

1

Clothing

Gloves

Marmot Randonee Gore-Tex gloves

6.5

1

Hiking

Komperdell Regular trek poles (red)

19.1

1

Hiking

Water purifier - Sweet Water

12.8

1

Hiking

Headlamp - Princeton Tec LED

1

Alpine

Ski goggles

1

Alpine

Ice axe - Kong Ultralight

18.5

1

Alpine

Crampons - Kong step-in

25.8

1

Electronics

Suunto altimeter watch

2.0

1

Electronics

Motorola Talk-About radio (+3AA batteries)

5.9

1

Electronics

Garmin etrex GPS (+2AA batteries)

5.4

1

Electronics

Cell phone (Nokia 8260)

3.5

5

Electronics

Extra AA batteries

0.8

1

Containers

Packs

Go-Lite

13.2

1

Car

Cooler with drinks, food (post climb munchies)

1

Car

Clean clothes, shoes for ride home

1

Car

Pillow (full-sized)

1

Car

Liquid soap (environmentally safe)
blog comments powered by

Disqus