Mt. Hood - South Side Climb
Climb up Mt. Hood with Aimee and Hoenig.

FeedbackBy Preston Hunt, 18 May 2002
Links
David's pictures
Mini Trip-Report
Aimee, Hoenig, and I left the BOOM! Condo around 10pm, pulling into the Timberline parking lot a bit before midnight. I was a little worried for the climb ahead, as I had just climbed Helens the previous weekend, had been biking up to Council Crest for the previous two nights on my road bike, and had been to karate practice bright and early this morning. Nevertheless, I felt empowered with 3L of Cytomax and a bag of gummy bears and was anxious to see how I would do.
After registering and getting our packs in order, we were on the trail before 12:30 a.m. There were already quite a few headlights twinkling on the slopes ahead of us, but I was confident that we would catch many of them in the hours ahead.
Although the night was foggy and pitch dark, we were blessed with not-too-cold and wind-free weather. The snow was firm, but not icy, so I left my crampons in my pack. For this Hood climb, I had opted to go as light as possible as an experiment (whilst maintaining safety, of course). As a result, I didn't have trekking poles and instead used my ice axe the entire way up. I didn't really have any problems without the poles, although had my pack been any heavier they would have been necessary. (Hoenig and I had also opted to wear our harnesses from the parking lot, to save the hassle of it later on.)
Everybody wanted to get to the summit before sunrise (5:30 a.m.), so we were marching to a strict schedule to get us there on time -- 1000 feet of vertical every 50 minutes, then a 10-minute break, repeat. As it turned out, it was just cold enough that our breaks were as short as possible: usually just enough time to take a bio break, grab a snack and some water, and put our packs back on.
For the first several thousand feet, we were content just marching along and following semi-descent tracks in the snow. Our plan was to stop at Silcox Hut for an extended break, but at around 9000 feet (after a really long westward traverse) I began to wonder if we were still on course. This entire time, we couldn't see anything except snow and darkness, but over the next few minutes, the vague outline of Illumination Rock was apparent against the skyline. The footsteps were getting ready to lead us off route, over to Louthold Couloir or worse! After a brief course correction, we were back on track.
At 10,000 feet, we roped up in preparation for the glacier and the bergshrund. There was another party there and I was amazed at how much more quickly we roped up than they did! After only a brief stop, we were back on our way. About this time, civil twilight kicked in and we were able to see much better. Past the bergshrund, however, our progress was slowed by a trepidatious Aimee, who feared that her crampons would slip on the firm snow.
After about 45 minutes, we finally made our way to the summit, the fifth party to do so that morning by my estimation (we probably would have been quicker if it weren't for my navigational error earlier!) The weather at the summit was abysmal (-5 degree F wind chill) so we limited our time up there to a few photos and headed down.
The descent was fairly straightforward. Ran into quite a bit of traffic at the bergshrund going up as we were going down. Deroped at 10,000 and Hoenig picked up his snowboard. Aimee decided to glissade shortly after this, but I didn't for fear of tearing up my Gore-Tex hiking pants (still need to find a convenient way to glissade without destroying clothes!).
Around 9,000 feet, I was starting to feel the effects of the climb and was generally not in a good mood, especially when Hoenig radioed to let us know that he was already back at the car! I made a mental note to always snowboard off of Hood on any future climbs! Luckily, the snowcat tracks below 8500 feet were soft and slushy and made for easy and quick plunge stepping, and I was back at the car before 9:15 a.m., only minutes after Aimee.
All in all, a text book climb, but I doubt I will go through the pain of recovery for the south side climb again. I want to try some of the other (not too technical!) routes next time. I was surprised that I had performed as well as I did, until a few days later, when I learned that a common pre-climbing technique is to strain your muscles with about an hour of intense uphill exercise, and then to carboload.
The data
Ascent: 5290 feet in 5:50 (avg 15.11 ft/min)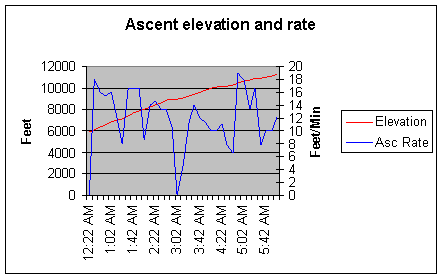 Descent: 5240 feet in 3:10 (avg 27.58 ft/min)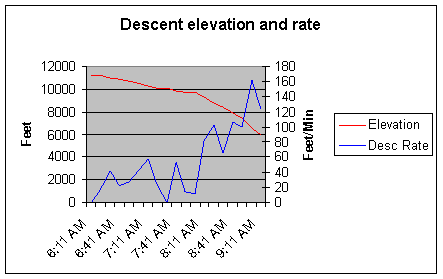 The gear
Qty.

Category

Subcat

Item

Wt. (oz.)

1

Essentials

Balaclava - REI polypro

1.6

1

Essentials

REI polypro liner gloves

1.1

1

Essentials

Emergency solar blanket & storage bag

2.1

1

Essentials

LED keychain light

0.3

1

Essentials

Locking serated blade

2.8

1

Essentials

Paper, pen, & storage bag

2.2

1

Essentials

Suunto Compass

1.3

1

Essentials

Sunscreen (SPF 45) - Aloe Gator

1

Essentials

Whistle

0.2

1

Essentials

Toilet paper

0.3

1

Essentials

Waterproof matches, trick candles (+ bottle)

0.9

1

Essentials

Iodine tablets (bottle)

1

Essentials

No-Doze tablets (bottle)

1

Essentials

Zip ties (aka cable ties)

0.0

1

Essentials

Sunglasses

1

Essentials

Map of area

0.0

1

Essentials

Extra food (Powerbar)

2.7

1

Essentials

Extra socks

1

Essentials

First-aid kit

1

Essentials

Large heavy-duty garbage bags

0.5

1

Food

Containers

Camelbak Unbottle (100oz)

1

Food

Food

Cytomax or Gatorade (premixed packets)

4

Food

Food

Powerbars

2.7

6

Food

Food

Gu

1.2

1

Food

Snacks

Gummy bears

1

Clothing

Wicking

Patagonia Mid Capilene Zip (blue)

7.6

1

Clothing

Wicking

Patagonia long johns (black)

1

Clothing

Insulating

REI Polartec 300 fleece vest

1

Clothing

Shell

REI nylon shorts

1

Clothing

Shell

Jacket - Marmot Thunderlight

22.7

1

Clothing

Shell

REI Gore-Tex pants

14.3

1

Clothing

Footwear

Koflach plastic boots (step-in compatible)

94.2

1

Clothing

Footwear

Insulating socks (pair)

1

Clothing

Footwear

OR super gaiters (pair)

10.5

1

Clothing

Headwear

Nike white baseball cap

2.5

1

Clothing

Headwear

Wigwam pile cap

3.9

1

Clothing

Headwear

Cebe glacier glasses (+ case)

2.7

1

Clothing

Gloves

Marmot Randonee Gore-Tex gloves

6.5

1

Hiking

Headlamp - Petzl Zoom (+ battery)

11.4

1

Climbing

Essentials

Pearabiner - Wild Country autolocking

1

Climbing

Essentials

Long prussik (orange w/ green)

2.8

1

Climbing

Essentials

Short prussik (green w/ orange)

1.9

1

Climbing

Essentials

Helmet - Petzl Ecrin Roc

1

Alpine

Rope - Edelweiss Torrent 8.5x25 dry

1

Alpine

Ice axe - Kong Ultralight

18.5

1

Alpine

Crampons - Kong step-in

25.8

2

Alpine

Rescue pulley -- Kong

2.9

1

Alpine

Ice screw

3.1

1

Alpine

Avalanche transceiver - Barryvox

8.7

1

Alpine

Picket - MSR Coyote 24"

13.7

1

Alpine

Harness - REI OnSight (w/ bag)

15.3

1

Alpine

Shovel - Ortovox (red)

22.5

1

Electronics

Suunto altimeter watch

2.0

1

Electronics

Motorola Talk-About radio (+3AA batteries)

5.9

1

Electronics

Garmin etrex GPS (+2AA batteries)

5.4

1

Electronics

Cell phone (Nokia 8260)

3.5

6

Electronics

Extra AA batteries

1

Containers

Packs

Go-Lite
Gear notes: This was my first summit with the Go-Lite pack and I was generally pleased with its performance, although its capacity was definitely maxed out. I had no problems at all from not having poles, and temperature wise, I was fine. I didn't use the baseball cap at all, probably should just leave it behind next time. After seeing the brightness and compactness of the LED headlamps, I vowed to ditch my old school Petzl and get an LED for all future climbs.
blog comments powered by

Disqus